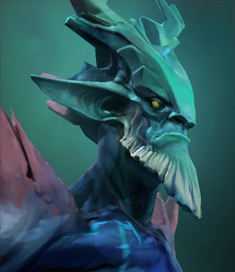 20
23
22
天赋树
+40 Split Earth Radius
10
+4 Armor
+25 Movement Speed
15
+12 Strength
+40 Pulse Nova Damage
20
+1.0s Lightning Storm Slow Duration
+175 Lightning Storm Damage
25
+30 Diabolic Edict Explosions

Split Earth
Splits the earth under enemies. Deals damage and stuns for a short duration.
Twisting nature to his vile will, the shifting earth consumes those unlucky enough to cross Leshrac's path.
RADIUS:
150 175 200 225
STUN DURATION:
2
STUN DELAY:
0.35
AFFECTS:
Enemy Units
ABILITY:
Point Target
DAMAGE TYPE:
Magical
DAMAGE:
120 180 240 300
PIERCES SPELL IMMUNITY:
No

80 100 120 140

9 9 9 9

tips: Split Earth will destroy trees in its area of effect.
There is a 0.35 second delay before the effect is applied.


Diabolic Edict
Saturates the area around Leshrac with magical explosions that deal physical damage to enemy units and structures. The fewer units available to attack, the more damage those units will take. Deals 40% more damage to towers. Lasts 10 seconds.
Chronoptic energy bursts from one plane to the other, evaporating anything it touches.
RADIUS:
500
EXPLOSIONS:
40
AFFECTS:
Enemy Units
ABILITY:
No Target
DAMAGE TYPE:
Physical
DAMAGE:
8 20 32 44
PIERCES SPELL IMMUNITY:
Yes

95 120 135 155

22 22 22 22

tips: Damage is not reduced by damage block.
The explosions will continue even if Leshrac is killed.
Can damage buildings, Spell Immune units, and invisible units.


Lightning Storm
Summons a lightning storm that blasts the target enemy unit, then strikes any nearby enemy units. Struck enemies are slowed.
The Tormented Soul's mastery of the elements is evident in the massive storms that strike down armies before him.
LIGHTNING STRIKES:
4 6 8 10
LIGHTNING JUMP RADIUS:
475
DAMAGE:
90 130 170 210
SLOW DURATION:
0.4 0.6 0.8 1.0
SCEPTER INTERVAL:
1.5
MOVEMENT SLOW:
-75%
SCEPTER RADIUS:
750
AFFECTS:
Enemy Units
ABILITY:
Unit Target
DAMAGE TYPE:
Magical
PIERCES SPELL IMMUNITY:
No
Upgradable by Aghanim's Scepter.
While Pulse Nova is active, Lightning Storm will hit one random unit in a radius every 1.5 seconds.

80 100 120 140

4

Pulse Nova
Creates waves of damaging energy around Leshrac, one per second, to damage nearby enemy units. Drains Leshrac's mana with each pulse.
If necessary, the Tormented Soul can manipulate space time itself, ravaging lesser beings.
RADIUS:
475
DAMAGE:
100 150 200
MANA/SEC:
20 40 60
AFFECTS:
Enemy Units
ABILITY:
No Target,Toggle
DAMAGE TYPE:
Magical
PIERCES SPELL IMMUNITY:
No

70

1.0 1.0 1.0 1.0
Skills
All Skills
Tournament
Very High
High
Normal
Lobby Types
All
Ranked
Normal
Solo Match
| | | | |
| --- | --- | --- | --- |
| Lifestealer | -0.79% | 47.02% | 16357 |
| Phoenix | 1.25% | 49.06% | 12070 |
| Tinker | -3.85% | 42.59% | 6374 |
| Snapfire | 1.82% | 47.76% | 16127 |
| Faceless Void | 2.74% | 50.64% | 39712 |
| Naga Siren | 1.04% | 48.63% | 3420 |
| Jakiro | -0.46% | 49.43% | 17946 |
| Keeper of the Light | 0.70% | 45.47% | 6662 |
| Viper | -4.50% | 45.80% | 12486 |
| Witch Doctor | 0.82% | 49.12% | 23554 |
| Crystal Maiden | 0.08% | 50.70% | 24912 |
| Bounty Hunter | 1.86% | 49.53% | 14265 |
| Templar Assassin | -5.79% | 42.49% | 5682 |
| Beastmaster | 4.14% | 48.18% | 3298 |
| Lina | 0.04% | 45.54% | 18811 |
| Bloodseeker | 0.70% | 51.16% | 12102 |
| Tiny | 1.33% | 45.25% | 18434 |
| Ember Spirit | -0.95% | 43.64% | 11218 |
| Sand King | 1.88% | 49.60% | 12736 |
| Treant Protector | 0.35% | 50.71% | 12190 |
| Warlock | 1.07% | 51.52% | 10577 |
| Earth Spirit | 2.17% | 48.03% | 7936 |
| Silencer | 0.04% | 49.56% | 14218 |
| Medusa | -4.38% | 47.24% | 9262 |
| Luna | -3.45% | 47.59% | 13157 |
| Skywrath Mage | -0.09% | 49.24% | 15572 |
| Huskar | -4.21% | 44.48% | 6520 |
| Timbersaw | -2.43% | 44.47% | 8675 |
| Grimstroke | 0.21% | 45.33% | 11321 |
| Phantom Assassin | 0.54% | 48.19% | 40188 |
| Shadow Shaman | 2.24% | 50.26% | 16206 |
| Lycan | -1.58% | 41.45% | 1761 |
| Slardar | 2.27% | 51.52% | 20860 |
| Chaos Knight | 2.68% | 51.33% | 11128 |
| Phantom Lancer | -1.78% | 44.94% | 12266 |
| Elder Titan | -3.25% | 47.23% | 4050 |
| Sniper | -3.31% | 44.14% | 24010 |
| Night Stalker | 3.55% | 53.06% | 11344 |
| Batrider | 3.86% | 44.82% | 3327 |
| Nyx Assassin | 6.16% | 51.89% | 8013 |
| Tusk | 3.26% | 48.72% | 12654 |
| Enchantress | -0.38% | 42.83% | 4763 |
| Wraith King | 0.49% | 51.63% | 23895 |
| Spectre | -0.82% | 52.52% | 30862 |
| Bane | 4.63% | 51.65% | 6420 |
| Monkey King | 0.44% | 46.31% | 17551 |
| Death Prophet | -4.90% | 44.28% | 3399 |
| Pudge | -0.28% | 48.51% | 47803 |
| Dark Willow | 0.38% | 48.79% | 9253 |
| Ursa | 0.58% | 47.28% | 14079 |
| Vengeful Spirit | -2.41% | 49.22% | 9441 |
| Slark | -1.25% | 47.32% | 28922 |
| Lich | 0.94% | 50.05% | 18059 |
| Juggernaut | 0.61% | 50.52% | 44047 |
| Spirit Breaker | 2.34% | 50.49% | 16443 |
| Centaur Warrunner | 0.65% | 49.07% | 9270 |
| Enigma | 2.43% | 51.34% | 5355 |
| Bristleback | -3.13% | 46.16% | 17980 |
| Undying | 0.31% | 51.03% | 12035 |
| Tidehunter | -1.33% | 50.14% | 12795 |
| Clockwerk | 2.06% | 51.48% | 16388 |
| Dazzle | 0.79% | 49.04% | 11467 |
| Omniknight | 1.33% | 51.30% | 3883 |
| Earthshaker | 0.61% | 48.05% | 22844 |
| Magnus | 0.53% | 47.75% | 13871 |
| Riki | 1.30% | 50.84% | 12242 |
| Queen of Pain | 0.91% | 46.78% | 16559 |
| Puck | 0.23% | 45.98% | 6274 |
| Oracle | 4.06% | 49.47% | 9372 |
| Axe | -0.72% | 48.70% | 23193 |
| Dragon Knight | -2.62% | 47.14% | 9419 |
| Drow Ranger | -0.79% | 49.32% | 24274 |
| Weaver | 0.04% | 48.12% | 11406 |
| Terrorblade | -1.14% | 45.84% | 10482 |
| Chen | 7.44% | 48.50% | 1163 |
| Clinkz | -0.77% | 54.59% | 12480 |
| Shadow Demon | 2.00% | 46.33% | 5808 |
| Mirana | 2.65% | 51.91% | 22009 |
| Invoker | -2.50% | 46.96% | 23096 |
| Meepo | -2.03% | 46.06% | 2586 |
| Disruptor | 1.02% | 48.98% | 15456 |
| Morphling | -1.36% | 45.97% | 15148 |
| Pugna | -0.40% | 47.30% | 11369 |
| Zeus | -2.92% | 51.62% | 22023 |
| Nature's Prophet | -3.13% | 41.02% | 11727 |
| Gyrocopter | -2.77% | 43.67% | 6478 |
| Storm Spirit | -2.53% | 46.02% | 10672 |
| Lone Druid | -4.54% | 46.30% | 3806 |
| Mars | 0.97% | 48.36% | 15863 |
| Troll Warlord | 0.44% | 49.45% | 12930 |
| Shadow Fiend | -3.19% | 46.54% | 14845 |
| Void Spirit | -0.02% | 48.29% | 10424 |
| Windranger | 0.23% | 50.29% | 37243 |
| Pangolier | -0.62% | 45.92% | 10165 |
| Outworld Devourer | -4.58% | 43.19% | 4036 |
| Winter Wyvern | 1.56% | 47.05% | 7248 |
| Necrophos | -1.52% | 49.71% | 10263 |
| Techies | -2.47% | 47.40% | 12790 |
| Ogre Magi | -1.00% | 51.56% | 35886 |
| Rubick | 1.85% | 46.38% | 25657 |
| Alchemist | -1.96% | 47.68% | 8077 |
| Lion | 1.65% | 48.20% | 36370 |
| Arc Warden | -4.18% | 49.24% | 6668 |
| Venomancer | 0.31% | 48.46% | 13825 |
| Underlord | 0.04% | 55.07% | 14003 |
| Visage | -1.61% | 46.65% | 1106 |
| Abaddon | -1.20% | 49.42% | 7104 |
| Legion Commander | 0.21% | 49.13% | 31223 |
| Sven | 1.71% | 51.47% | 33101 |
| Ancient Apparition | 0.32% | 50.28% | 10888 |
| Brewmaster | 0.12% | 47.22% | 2698 |
| Anti-Mage | 0.01% | 50.75% | 31873 |
| Broodmother | -5.03% | 47.75% | 2063 |
| Doom | 2.85% | 46.77% | 11852 |
| Dark Seer | -0.33% | 51.04% | 3752 |
| Kunkka | -0.59% | 45.12% | 11952 |
| Razor | -3.72% | 45.58% | 4688 |
| Io | 3.84% | 46.89% | 4982 |